Sturbridge
8131 Seaton Place
Montgomery, AL 36116
Monday: 8am - 5pm
Tuesday: 8am - 5pm
Wednesday: 8am - 5pm
Thursday: 8am - 5pm
Friday: 8am - 5pm
---
Eye Care Center in Montgomery, AL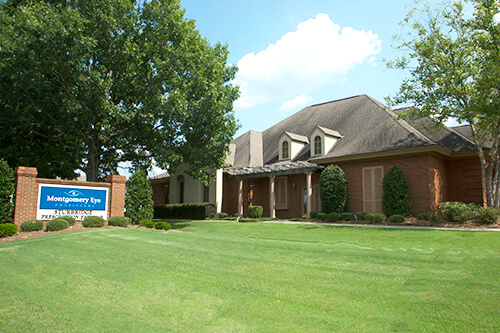 At Montgomery Eye, our mission is to serve our patients, employees and referring providers with a total commitment to quality, courtesy and professionalism. Located on the East side of Montgomery, our Sturbridge location is just minutes from The Shoppes at Eastchase, Halcyon and Deer Creek neighborhoods, and the Pike Road community. Montgomery Eye Sturbridge offers the latest in LASIK technology from local, board-certified ophthalmologists and LASIK surgeons, as well as Comprehensive Eye Care, Cataract Surgery, Contact Lens, Diabetic Eye Care, and more. Prescription Eyewear is also located in our Sturbridge office, and offers a variety of eyeglasses and prescription sunglasses.
Eye Care Services in Sturbridge, AL
General Eye Exams – Coming in for a general eye exams are important for catching potentially serious eye problems like glaucoma. Schedule a consultation with our team today.
Cataract Treatment – Signs of cataracts can have a direct impact on your vision and overall quality of life. Cataract surgery is a big step in fixing that problem for you. Schedule a consultation with our cataract surgeons today.
Cornea Treatment – Keratoconus, fuch's dystrophy and dry eye are all examples of diseases that can impact the cornea. Read more about cornea symptoms that you shouldn't ignore by clicking here.
Diabetic Eye Care – Someone who has diabetes should always have a comprehensive eye exam every year to ensure their diabetes is not impacting their vision.
Our other general eye care services include LASIK, eyelid surgery, aesthetics, glaucoma treatments, and comprehensive eye care.
Services at Sturbridge