Katherine J. Donnithorne, M.D.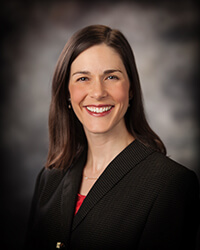 Katherine J. Donnithorne, M.D. graduated magna cum laude from Wheaton College with a B.A. in elementary education and a minor in Spanish. Following the completion of her undergraduate studies, she served for two years in Bolivia as a 4th-grade teacher as well as teaching English as a second language to high school students. After concluding her post-baccalaureate studies in pre-med at Bryn Mawr College, she worked for one year performing clinical research at the National Institutes of Health in Bethesda, Maryland.
Dr. Donnithorne received her medical degree from the University of Alabama at Birmingham where she was awarded the Paul Palmisano Excellence in Pediatrics Award as well as the Medical Alumni Association Community Leadership Award. Following her internship in Internal Medicine at Medstar Good Samaritan Hospital in Baltimore, Dr. Donnithorne completed an ophthalmology residency at UAB.
Trained in comprehensive ophthalmology including cataract, glaucoma, and eyelid surgery, Dr. Donnithorne is Board Certified and has a concentrated interest in medical retinal disease.
A native of Birmingham, Dr. Donnithorne and her husband Jeff, a Colonel in the United States Air Force, have two young children. In their time away from work they enjoy hiking, traveling, and involvement in church and service activities.